29 juillet 2012
After a break during which I slept, it rained, so I slept some more, it rained again, so....and so on, I gathered enough energy to crochet again (which also means, to go to bed after 9.30pm....as I usually crochet in front of the evening film, after the boys have gone to bed)
I started a cushion, made with 16 grannies (maybe 20, depending on the final size), with a grey basis, and colors in the centre. Eventhough I'm not following any pattern (and this is a first time!) I was greatly inspired by these ones....
I had bought some yarn this winter when I had spent a day in Nantes because there is a LA DROGUERIE shop there, and the variety of colors almost makes this cushion crocheting like a painting session...
And if you live in France, You know how bad we need colors to stand this grey month of June!
Après une pause pendant laquelle j'ai dormi, il a plu, alors j'ai dormi encore, il a plu, alors....j'ai quand trouvé le courage de ressortir mon crochet (en fait, ça veut surtout dire, me coucher après 9 h et demi, car je ne dégaine mon crochet qu'une fois les garçons couchés, devant le film du soir)
J'ai commencé une housse de coussin faite de 16 carrés (peut-être 20 on verra la taile au final) avec un fond de gris et des couleurs au milieu. Pour la première fois, je ne suis pas d'explications mais je me suis largement inspirée.
J'avais acheté de la laine cet hiver à Nantes...Jouer avec toutes ces couleurs c'est comme de la peinture, ou du coloriage...
17 juin 2012
After having scrubbed, washed, cleaned and tidied yesterday, we could enjoy a real summer lunch outside today!
Après le grand nettoyage de la terrasse hier, nous avons pu profiter d'un vrai repas d'été aujourd'hui!

25 mai 2012
I left my blog aside for a while because I was quite busy preparing my 40th birthday party (in fact, we decided to get married on the same day!)
It was a surprise, even for our own children! I loved the day, eventhough it was raining!!!
I made my own dress, with paper....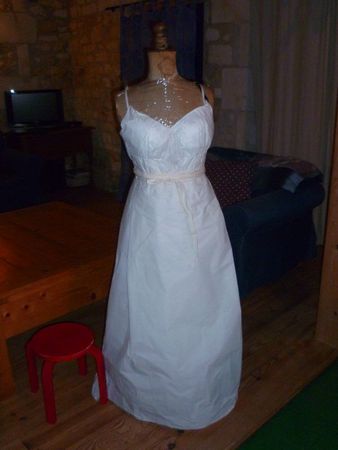 I glued it on my grandma's old dummy. It was quite a challenge, but, well, it was "wearable" in the end!
The rain spoiled it a bit, but, I'm not going to wear it again!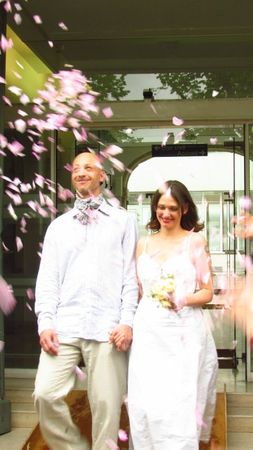 Tu as raison, Nathalie, "40 ans, c'est un bel âge pour se marier"
10 mai 2012
Very unlike me but I seem to be into reds these days...
painting the staircase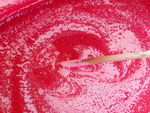 , baking seasonal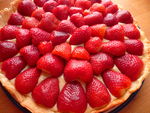 Me voici dans le rouge???!!!
25 avril 2012
Really nasty weather here for the spring break.... So, apart from driving the kids to various activities, watching a lot of TV, thinking hard about how I should really be preparing my party (less than a month now....) I managed this bowl of comforting popcorn!!!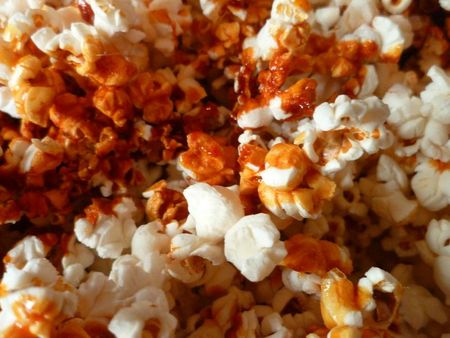 Un temps de chien ici pour nos vacances de printemps... Alors, je fais le taxi pour conduire les enfants à diverses activités, je regarde beaucoup (trop) la télé, et je pense très sérieusement à ce que je devrais être en train de faire pour préparer ma fête (dans moins d'un mois maintenant!). J'ai quand même réussi ce bol de popcorn au caramel dans lequel nous avons trouvé un peu de réconfort!!!
06 avril 2012
I wanted one of those... And on sunday morning, across the street, was the annual school flea market... And there it was, just waiting for me! And the best part was that it wasn't even too expensive... The seat folds, like a real cinema chair.... There's a nimber 13 in the back, and the velvet is in a deep red, a color that regularly appeals to me... I planned to put it in the hall (where the picture was taken...) But it looks nicer under the staircase!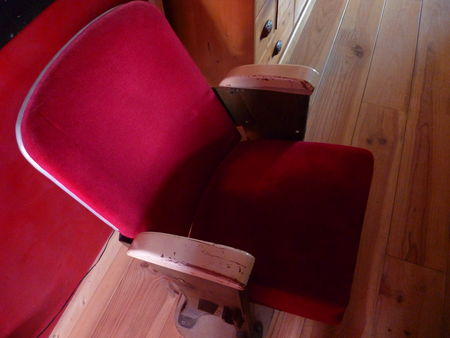 J'en voulais un comme ça depuis longtemps, et dimanche matin, en face de la maison, se tenait le vide-grenier annuel de l'école. Il était là, me tendant les bras....Et il n'était même trooooop cher! il se plie, comme un vrai siège de cinéma, il a numéro 13 sur le dossier et le velours est d'un rouge profond... Une couleur qui me parle! Je voulais le mettre dans notre entrée aux murs rouges, mais il a trouvé sa place sous l'escalier!
05 avril 2012
I tend to spend less time knitting or crocheting on the sofa lately : too bright sunshine out there! Here is how far I've come with my second sock/second pair...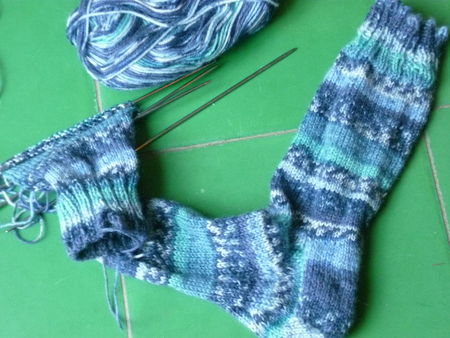 And with my islandic cardigan...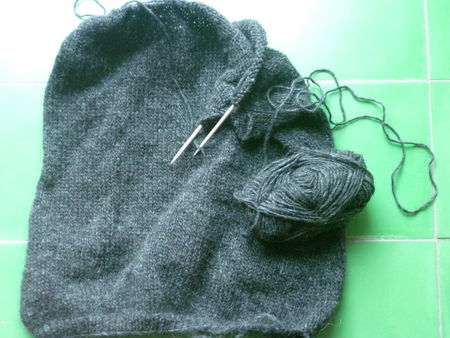 And with my ripple...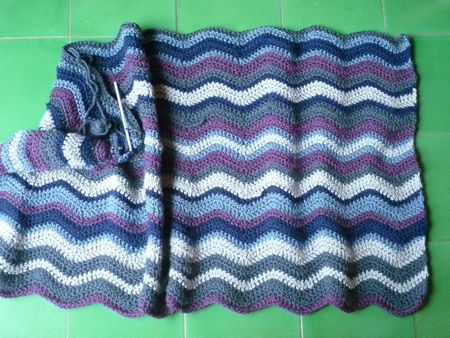 Not far you see...
But things are on their way, here... my birthday party (really it's in February, but party was planned for May, when it's warm and sunny, anyway, let's keep our fingers crossed!). And I've been thinking Bollywood : nice colors, a little crazy, and exotic too....
But, believe it or not, except from the place which I 've rented months ago, nothing is ready : I don't even know how many guests I'll have. So knitting had to be put on the side for a while and work to be done.
By work, I mean shopping : I bought some plastic glasses, table clothes, and other stuff. See... I'm on it!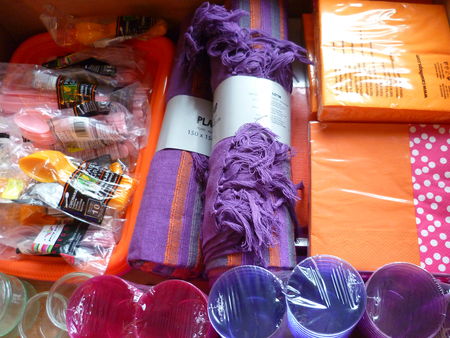 J'ai tendance à passer moins de temps sur le canapé, à tricoter ou au crochet... Il fait trop beau dehors!!! Voici où j'en suis de ma paire de chaussettes #2
Et de mon tricot islandais...
Pas bien loin, comme vous pouvez le constater...
Mais il y a des choses qui se passent ici... Ma fête d'anniv (en février en fait, mais on a prévu de le fêter en mai, un mois où il doit faire chaud et beau... en tout cas, j'espère!) Et le thème, c'est Bollywood. Des couleurs, un brin de folie, et exotique en même temps....
Mais, rien n'est prêt! J'ai loué la salle, mais je ne connais pas le nombre d'invités, ni le menu, et encore moins ma tenue!!! Alors, je vais poser les aiguilles pour un temps et faire ce qu'il y a à faire.
J'ai quand déjà fait quelques empelettes : des gobelets, des nappes, et d'autres petits trucs...

04 avril 2012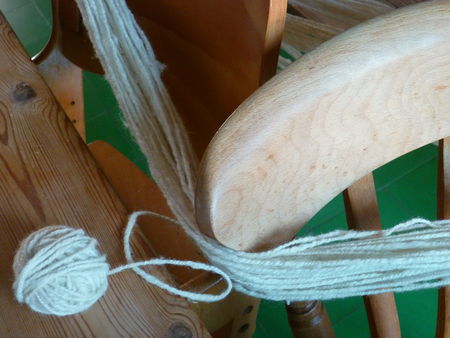 31 mars 2012
Last time I walked into a charty shop looking for a new pair of jeans (I only had one left, and two is a minimum!), I spotted some yarn. Colorful, synthetic, rather uninteresting, but oh my! at the bottom of the box, were these 6 skeins of natural cream and brown wool... What am I going to do with them : of this I haven't got a clue, but I had to buy them, of this I was sure! So, I happily spent 5€ on jeans and wool!
La dernière fois que je suis entrée dans un magasin de La Croix Rouge (ma résolution de ne plus acheter de vêtements neufs...) à la recherche d'un deuxième jean (je peux toujours porter autre chose, mais RIEN ne peut remplacer un bon vieux jean! Alors deux, c'est le minimum syndical...) j'ai trouvé de la laine. Synthétique, aux couleurs criades et peu attractives, mais au fond de la boîte...il y avait 6 écheveaux de pure laine (mon imagination fertile me souffla sur le champs qu'il s'agissait sans aucun doute de la laine de troupeaux de montagne!) Que vais-je en faire?.... Je n'en ai pas la moindre idée! Mais je ne pouvais pas laisser passer une telle occasion! J'ai donc dépensé 5€ pour 1 jean et de la laine!

28 mars 2012