15 février 2012
No more new clothes! At least for me. I said that a few months ago. Not really sure I could manage. First because I like shopping, and then because second-hand shops are quite rare here, in my small provincial town. Fortunatly, there are a lot on the web. But well, except from underwear and shoes, I haven't bought anything new lately. I got 2 new sweaters from my sisters, but otherwise, well.... I hold my word!
I think I'm fed up with how much money we're supposed to spend to wear clothes that don't really fit, or I don't really like or worse I really like but which poor quality prevents me from wearing them as long or as often as I would like to.
Hand-made is another alternative. But on this chapter, I need a boost on my self-confidence. Do you know this silly old symdrome : is it nice enough to be worn in public? Can I go to work with this hand-made skirt/sweater/scarf? Manu is always very helping, speaking his opinion very frankly. Wether it is a compliment. Or not. But my lack of self-confidence doesn't trust his compliments (isn't his opinion biaised by his feelings for me?).
But yesterday, the magic happened : as I was grocery shopping, a lovely woman stopped me to compliment me about my hand-made skirt. We talked for a while in the supermarket and I must confess I 'm so proud! But not a bad kind of showing-off pride. A nice "make me feel good" encouraging pride. So....I just wanted to say THANK YOU!
By the way, my new boots (Monoprix) were end of sales,grey (one of my colors) and starry, perfect to go fetch wood or to go in the garden as soon as spring will have come back!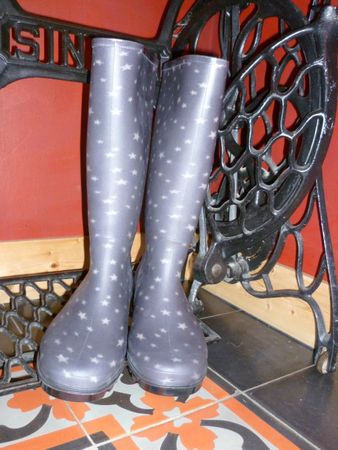 Plus de vêtements neufs! Du moins, pour moi. J'ai décidé ça il y a quelques mois, sans savoir si j'y arriverais. D'abord, parce j'aime bien faire les magasins, et puis aussi parce les boutiques d'occasion sont plutôt rares dans notre petite ville de province. Heureusement que Ebay et Le Bon Coin existent! Enfin, dessous et chaussures mis à part, je n'ai rien acheté de neuf récemment. Ma soeur m'a offert deux gilets de chez H&M, mais sinon, j'ai tenu parole!
Je crois que je suis fatiguée de dépenser de l'argent pour des vêtements qui ne me vont pas vraiment, ou qui ne me plaisent pas vraiment, ou pire, que j'adore mais qui ne tiennent pas le coup.
Le "fait-maison" est une alternaive. Mais à ce sujet, j'ai besoin d'améliorer ma confiance en moi. Connaissez-vous ce symdrome stupide mais persistant : est-ce assez bien pour être porté en public? Est-ce que je peux vraiment aller au travail avec cette jupe/ce pull/cette écharpe que j'ai confectionné de mes p'tites mains? Manu est toujours très franc sur ce qu'il pense de mes oeuvres. En bien ou en mal. Mais puis-je vraiment croire en ses compliments? Ben oui, son opinion est forcément influencée par ses sentiments. Non?
Mais hier, la magie a opéré : alors que je faisais mes courses, une adorable jeune femme m'a arrêtée pour me complimenter sur ma jupe (une fabrication maison que je ne manquerai pas de vous montrer, bien sûr!)
Nous avons discuté un moment et je dois avouer que je suis fière! Mais pas d'une vilaine et prétentieuse fierté. C'est plutôt un sentiment agréable et encourageant. Alors j'ai juste envie de dire : MERCI!
Ah, au fait, mes nouvelles bottes sont des fins de soldes de Monop, grises et étoilées, parfaites pour aller chercher du bois dans le jardin ou pour jardiner dès que le printemps reviendra!
Commentaires sur new boots