22 février 2012
I don't know what's with blue and me but the least I can say is that it's an old love story! It all started in August 1993 : after having spent 6 weeks in North Yorkshire (not far from the beautiful city of York) that included a lot of rain and grey skies (sorry, English readers, I REALLY like your country, but your weather isn't my cup of tea!) we flew to Greece for a forthnight. What a contrast!!! The light! The temperature! The sun! And the blue!!!! Or should I say the blues.... Different hues of blue painted on the shades.... The white houses providing coolness, the people, talkative and welcoming (the same people who are crossing such a hard time right now...) and the sea. Clear. Warm enough to spend hours bathing.... What a lovely memory... That was our first trip together with Manu. And I really think my love affair with Blue started then.
Of course, I have to be unfaithful... because I can't resist a deep grey, a vibrant pink, a powerful purple.... An occasional orange , a refreshing green. But I always come back to blues. Light, deep, zen, energizing... The better thing that was said about our home decoration was that, only with cold colors, we managed to get a warm effect! I'm not too much into the tribal, natural color themes.... My sister is though, and I like the result. But not for my own house. It may well be explained by our passion for the water. Whether it is the Sea where we can go on holiday from time to time, or the Ocean where we live, water is a common passion for both of us. When Manu and I started our professionnal life, we decided NOT to go and work in Paris where the opportunities were obviously better, but chose a simpler life that enabled us to buy an old house 15 minutes away from the ocean... And here we still are, breathing, drinking, dreaming blue!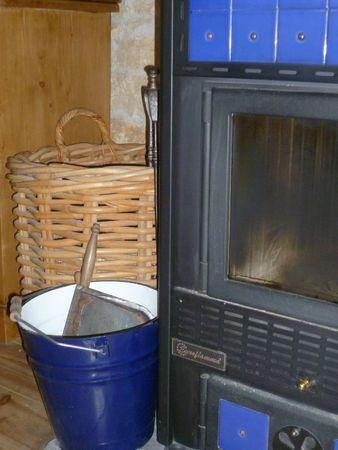 Je ne saurais expliquer ce qu'il y a entre le bleu et moi, mais le moins que l'on puisse dire c'est que c'est une histoire d'amour qui dure! Tout a commencé en Août 1993 : après avoir passé 6 semaines dans le North Yorshire (non loin de la belle ville de York) où j'avais souffert de la pluie et de la grisaille (désolée pour mes lecteurs anglais dont j'adore le pays mais dont le temps n'est vraiment pas ma tasse de thé!) nous nous sommes envolés pour 15 jours en Grèce. Quel contraste!!! La lumière! la température! Le soleil! Et le bleu!!! Ou devrais-je dire les Bleus... Les volets peints dans differentes teintes de bleu... La fraîcheur des maisons blanches, les gens, bavards et accueuillants (ces mêmes gens qui sont en souffrance en ce moment...) et la mer. Limpide. Assez chaude pour y passer des heures... Quel souvenir... C'était nos premières vacances avec Manu. Et je crois vraiment que c'est à ce moment-là que mon histoire d'amour avec le bleu a commencé.
Bien sûr, je me dois d'être infidèle... Je ne peux tout simplement pas résister à un gris profond, à un rose intense, à la puissance d'un violet... me laisser tenter par un orange à l'occasion. Être rafraîchie par un vert. Mais je reviens toujours à mes premières amours. Léger, profond, zen, revigorant.... La plus jolie chose qui ait été dite à propos de notre maison, c'était qu'avec des couleurs froides nous avions réussi à la rendre chaleureuse! Je ne suis pas adeptes des couleurs natures, tel le ocre ou le rouille, comme peut l'être ma soeur. J'aime le résultat que ça donne pourtant. Mais pas pour chez moi. Cette préférence s'explique certainement du fait de notre passion commune pour l'eau. Quand Manu et moi avons commencé à travailler, nous avons décidé de ne PAS nous installer à Paris, où les opportunités étaient pourtant meilleures. Nous avons opté pour une vie plus simple : ce qui nous a permis d'acheter une maison à rénover à 15 minutes de l'océan... Et voilà où nous en sommes aujourd'hui : respirant, absorbant, rêvant en bleu!

Commentaires sur Du bleu dans la maison #1