25 février 2012
Crochet is something I've wanted to do for years, but eventhough it was explained to me, I never could get it. So, I gave up the idea. Until I saw this, this and this again!!! And then, that was it! Green with envy, I decided I HAD to learn! I found a perfect tuto here (but it has been removed since, for copyright reasons), printed it (bad girl, I know!) and spent a couple of evenings STRUGGLING to get....nothing. A poor result, nothing that could be taken for a flower anyway. My mother-in-law, seeing me so sorry, tried to show me. But still, stubborn me didn't want to undertand. So I went back to my sewing machine.
And then fall came back. Funny how with this season, the temperature drop, the bare trees outside, I always feel a kind of tickle : an urge to handle yarn. Fabric is okay for the summer, but in fall, I need wool! Over the years, I only mildly answered to this demand :
1. I used to be a hopeless knitter (but, I'm getting better!)
2. I'm already storing a lot of fabrics so wool on top of this would have showed.... (you must understand that ONE would have asked questions about the sanity of so much storing around the house.... and if I remember some of your posts, I'm sure you know what I'm talking about!)
So this fall, at the beginning of November exactly, I gave it another try. I had been reading Lucy's blog for a couple of months...And I then read her chrystal clear tutos! The magic finally did its work... I understood! I remember how inspired I was by the simple expression "yarn over" That was what I dindn't get in French. So yarning over I did and....a few weeks later : I had done a satisfying number of flowers. OK, I should have read ALL the explanations, because I hadn't quite understood I was supposed to crochet the flowers together as I was going....But still, I bravely assembled them with a yarn needle, and I wore my first crochet work on my new ebay jean jacket (that was before the weather was too nasty).
The problem now, is the sewing-together, which is not as resisting as I thought it would be. So, as you can see, it's getting kind of wild here and there... I'm off work, on winter-break, for 2 whole weeks, and among a few other things ;-) I want to find time to mend my scarf. (I used different yarns in beige, pink, purple, light and dark greys and orange)

Happy crochet to you!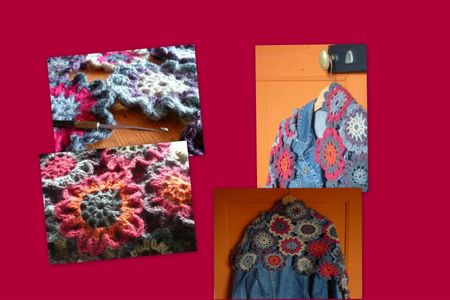 Faire du crochet me tentait depuis de nombreuses années, mais même si j'avais essayé d'apprendre, je n'y étais jamais parvenue. J'avais abandonné l'idée jusqu'à ce que mes balades sur les blogs me conduisent ici, ici ou encore ici!!! C'en était trop! Verte de jalousie, je décidais alors que je DEVAIS apprendre! Je trouvais un tuto parfait ici (hors ligne depuis pour cause de droits d'auteur) que j'imprimais (je sais....c'est mal!) et je passais quelques soirées à me battre avec mon crochet pour obtenir.....rien! Un résultat bien malheureux qui ne laissait pas penser à une fleur, et ce quelque soit l'angle d'approche. Ma belle-mère, compatissante, a refait une tentative pour me montrer le geste, mais une force obscure me barrait encore le chemin.... Alors, je suis retournée à ma machine à coudre.
Et puis l'automne est revenu. C'est drôle comme cette saison, avec ses baisses de température, et ses arbres dénudés, chatouille une région de mon inconscient. Un désir de manipuler de la laine. Le tissu, c'est bien pour l'été, mais en automne, il me faut de la laine! Toutes ces années je n'ai que très raisonnablement répondu à cet appel :
1. Je n'étais qu'une piètre tricoteuse (mais je progresse!)
2. Je stocke déjà pas mal de tissus alors, avec de la laine en plus, ça ce serait vu...(ici, vous devez comprendre qu'ON m'aurait posé des questions sur le bien-fondé d'encombrer la maison avec autant de réserves....et si j'en crois vos posts, je suis sûre que vous savez de quoi je parle.)
Aussi, cet automne, début novembre pour être exacte, j'ai donné une nouvelle chance à mon crochet. Je lisais le blog de Lucy depuis quelques mois... et je me suis penchée sur ses tutos (limpides!) Et la magie opéra! (Et oui opéra, c'est presque la musique de fond qu'il faudrait pour lire ça tant mon plaisir était intense) Je comprenais enfin l'indéchiffrable! Je me souviens de la révélation d'un simple "yarn over" (je ne sais toujours pas comment on dit ça en français, remettre le fil sur le crochet). Alors, fleur après fleur, j'atteignis le nombre requis pour cette fameuse étole. Bon, certes, j'aurais dû lire les explications jusqu'au bout car je n'ai pris conscience que je devais assembler les fleurs au fur et à mesure qu'une fois toutes les fleurs réalisées. Oups! Me saisissant de mon aiguille à laine, j'ai cranement résolu le problème en les cousant ensemble pour pouvoir porter mon étole sur ma nouvelle veste en jean (ebay) avant que le froid ne devienne trop mordant.
Le problème, c'est que les coutures lâchent. Le poids de la laine a oeuvré à plusieurs endroits... Mais les vacances d'hiver, 2 longues semaines, devraient me permettre entre autre choses ;-), de remédier au problème. (J'ai utilisé des laines de différentes provenances en beige, gris foncé et gris clair, rose, violet et orange)
Joyeux crochet!

Commentaires sur Japonese flower scarf