01 mars 2012
Finished! So, here is my first ripple. As I said, the colors were chosen according to my brother's home, but in the end, I quite like it. I didn't make the cover too babyish, but still, the result is tender enough to fit in a crib.
The yarn is from Cheval Blanc, called Triade, and made from recycled fibers. Hook n°5. About 500g. 1m20/70cm.
I just have to wait for this baby to come now... And according to his mummy, it should be sooner than planned!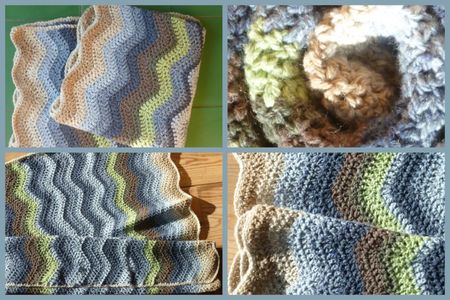 Et voilà my première "ripple"! J'ai choisi les couleurs en fonction de la maison de mon frère, mais au final le résultat me plaît. Je n'aime pas trop les couleurs pastels, mais je crois que cette petite couverture trouvera quand même sa place dans un berceau.
Laine Cheval Blanc, Triade, fabriquée avec des fils recyclés. Crochet n°5. Environ 500g pour 1m20 sur 70cm.
Il n'y a plus qu'à attendre que le bébé montre le bout de son nez, ce qui, selon sa maman devrait arriver plus tôt que prévu!
Commentaires sur Spring baby