06 avril 2012
I wanted one of those... And on sunday morning, across the street, was the annual school flea market... And there it was, just waiting for me! And the best part was that it wasn't even too expensive... The seat folds, like a real cinema chair.... There's a nimber 13 in the back, and the velvet is in a deep red, a color that regularly appeals to me... I planned to put it in the hall (where the picture was taken...) But it looks nicer under the staircase!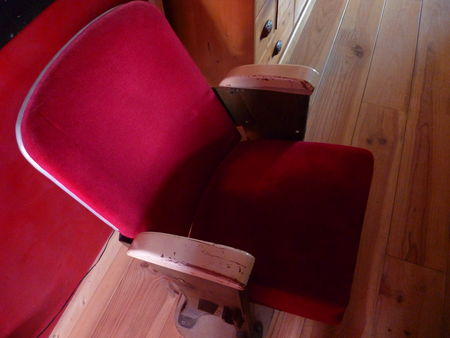 J'en voulais un comme ça depuis longtemps, et dimanche matin, en face de la maison, se tenait le vide-grenier annuel de l'école. Il était là, me tendant les bras....Et il n'était même trooooop cher! il se plie, comme un vrai siège de cinéma, il a numéro 13 sur le dossier et le velours est d'un rouge profond... Une couleur qui me parle! Je voulais le mettre dans notre entrée aux murs rouges, mais il a trouvé sa place sous l'escalier!
Commentaires sur Cinéma!