19 février 2012
Another first time : first cable!!!
I chose a pattern from La Droguerie with a single, central cable and worked my way with a DPN (not having any cable needle). And you know what? It's kind of easy once you understand how it works. Ok, it took me a while to get it, and if I was honnest, I would add that I started this scarf all over again at least three times! But well.... It's finally : 1. finished 2. soft, soft, soft.... 3. warm, warm, warm....
Size : 100cm/30cm. I used 9mm needles and 250g Alpaga wool called Andes (from Drops, sold in Kalidou) instead of 400g Wool from La Droguerie as explained on the pattern (their wool is nice, that's sure but it is a little tiny bit too expensive...)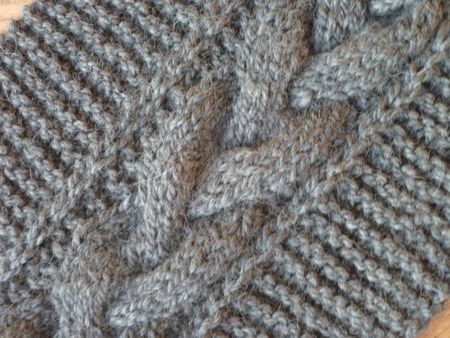 Encore une première fois : première torsade!
C'est un patron de La Droguerie, avec une seule torsade centrale. J'ai travaillé avec une aiguille double pointe car je n'ai pas d'aiguille à torsade. Et bien, une fois qu'on a compris le truc, c'est plutôt facile. Bon ok, si je dois être tout à fait honnête, je dois avouer que j'ai bien recommencé 3 fois depuis le début! Mais ça y est : 1. c'est fini 2. doux, doux, doux... 3. chaud, chaud, chaud...
Taille : 100cm/30cm. J'ai utilisé des aiguilles de 9mm et environ 250g d'Alpaga Andes (acheté chez Kalidou). Le patron préconisait 400g de laine La Droguerie (un tantinet trop cher pour un essai...)
Commentaires sur Etole à torsade